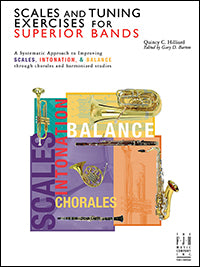 Quincy C. Hilliard
Scales and Tuning Exercises for Superior Bands
BB209
Scales and Tuning Exercises for Superior Bands is a great resource for those seeking to improve their development in scale studies, intonation, and balance through chorales and harmonized studies. This book can be used as a daily warm-up for intermediate or advanced ensembles.

Included is an in-depth explanation of how major and minor key signatures and scales are constructed, as well as exercises for the students to complete. In addition to major and minor scales, the whole tone, blues, and pentatonic scales are included.

Balance is also addressed in detail. The student will not only study band balance, but sectional balance as well. When playing the chorales and harmonized studies in this book, the student should understand the importance of tone quality, intonation, blend, and balance. Tips for playing chorales and harmonized studies are also included.